Thanks to Angie for clueing me into this very fun idea!

Mamarazzi hosts regular swaps, via blogs. You sign up on her site, and she matches two bloggers together. You peruse your buddy's blog to learn more about them, and then on a designated day, you send them a little care package. How fun is that?! I love getting care packages from people, and sending them even more!

This month's swap is Red, White, and Blue themed, which I know is going to give me a chance to get creative and have fun...and hopefully support local businesses as well. Whee!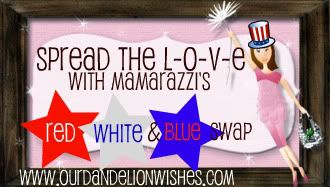 Labels: blog swap