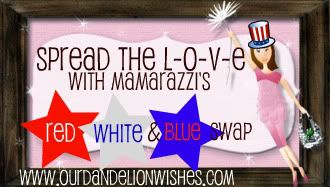 This month I had the honor of participating in Mammarazzi's Red, White, and Blue blog swap. The basic idea is that she pairs bloggers up, and we each shop for the other. The guideline this month was red, white, and blue things, and I combined it with some of my favorites as well. I had a lot of fun sending out my package to my blogger buddy, but was in for a happy surprise when I got her package for me!



Everything is all cutely wrapped in red, white, and blue, with a letter of instructions. Clever clever woman sent chocolate (how did she know!), in red (dark chocolate with raspberry), white (white chocolate with vanilla bean), and blue (milk chocolate). Yum!




The first bundle was everything I need for a 4th of July picnic. Yay! This works very well, as I'm planning on attending several outdoor movie fests, and accompanying dinner picnics. You can't see them well here, but she also included red, white, and blue leis (and Patrick made the predictable joke there). PLUS two stars and stripes paper lanterns, to light the picnic (and my room...muahaha! I feel the need to decorate again!).




I swear it's as if she knows me well...or maybe all women recognize the need to de-stress in each other? She sent two hydrangea candles (aww, reminds me of home) and two soothing cds (one predominantly flute, one predominantly piano). The cover on the Zen Garden one nearly matches the postcard I included in her box, interestingly enough. Anyway...instrumental music is great for relaxing AND for writing! The two blue bottles there are essential oils for my diffuser. They are both nummy scents, but the vanilla smells like cookies and cream (and Patrick warns me if I use that one in the bath he will nibble on me).




And last but not least....jewelry! And handmade soap (goat's milk soap...which, I gotta say, I love). I am in need of more red jewelry, so this is well-timed. The necklace will go very nicely with my Midsummer/Beltaine belly dance outfit. :)

Thanks, blog-swap friend! You rock!


Labels: blog swap