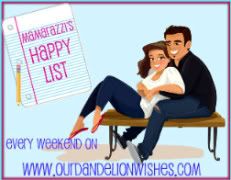 It's Saturday- congrats on making it to the weekend!
In a new tradition that I hope to continue doing throughout the year, I am participating in Mamarazzi's Happy List meme. Hey, we should all focus on the positive, right?
I am happy because I have a purring cat on my lap right now. Granted, she's making it difficult to type, and being very demanding, but it's so nice to have a pet again after so long.
I hope Scotsman and I can get a Pixie Bob for him sometime this year, after he starts school. I think Lucy would like having a friend in the house that isn't a large monkey thing with thumbs.
I am happy because there will soon be swapness happening. Not here, but I'm totally addicted to those.
I am happy because I spent all week unpacking and arranging our new townhouse. It's not done yet, and won't be until next week I think, but it's so nice to arrange a living space to my liking.
I am happy because Scotsman and I had a tickle fight before he left for work tonight. Four months in, and we're still as playful as we were that day we had a game of shock tag through Walmart. Yay!
I am happy because I have new sewing and costuming plans. Nothing has a deadline, and a lot of it involves silk. How can I not enjoy that? ;)
I am happy because I am out of a living situation that was increasingly bad for my health, and in one that makes me happy. It's been a long time since I lived somewhere that made me happy.
What's on YOUR happy list?
Labels: happy list