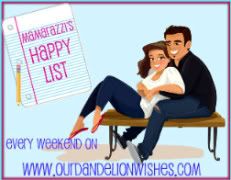 Time for the weekly Happy List post!
Friday morning, I woke up to find these tasty babies, made fresh by Scotsman for me. That's homemade hash browns with turkey bacon slices, egg, salsa, and cilantro atop a heated small tortilla. YUM.
We are about six boxes away from being fully unpacked and moved in! I have some organizing left to do, but we're definitely in the home stretch.
I'm still unemployed. Why is this on my happy list? Because the timing of it is amazing. It means I have plenty of time right now to unpack, settle, play with Lucy, clean, organize, and dote on Scotsman. Perfect timing.
I firmed up plans for my road trip with mi madre later this month. We're heading back to the old homestead to fix it up a little, and say hello/goodbye to our friends down there. As my mom is one of my best friends, this is an exciting thing for me.
I'm a member of the book website
GoodReads
, and as such was able to fulfill almost 50 book wishes for random strangers, spreading my love of some novels to new folk (and opening up a bit of space on my shelves).
I did a slight redux of my blog, including adding some new pages. I will be responding to commenters now, and adding more pics. I also have a backpile of DIY posts from my other blog to add here. Yay!
Starting tomorrow, I will once again be on an exercise regimen. I can't wait! I'm always happier when active. Weekends will be walking at least 2 miles, M/W/F will be aerobic workout for 30 minutes, T/TH will be weight lifting and core exercises.
*
All images are copyright their owners (including the one of me and Scotsman, and brekkie)
*Yes, I own this workout, among others, but watching her move is too distracting for me.
Labels: happy list