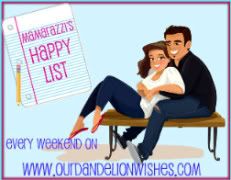 Here's my Happy List for the week:


Scotsman and I fought. Don't get me wrong, fighting is painful. But each time we do, and then make up and talk about why we had an issue, our bond grows stronger. And hopefully the fights occur less often. Yay communication!
I baked Chocolate Bar Cookies, and they are delicious. Warm cookies on a cold day...is there anything better?
Scotsman's birthday celebration is today! I am super-excited, although still a little sleepy. Technically, his bday is Feb 10th, but since his family is coming to visit next weekend, we are throwing the shindig today. He doesn't normally celebrate his bday, but I'm making him German pancakes for brekkie, giving him a foot massage this afternoon, then taking him to see his favorite band (Solas) at his favorite venue (The Triple Door) with his favorite group of people. And it's all a secret! Fun fun. :D
Scotsman and I are playing "Last Night on Earth", a board game, regularly. We've discovered that playing board games together does our relationship a world of good. I love it. Maybe playing games does everyone good?
And, clearly from the link above this sentence, the TED talks make me happy.
Labels: happy list