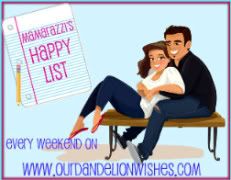 First and foremost on my happy list is that Scotsman is no longer sick AND he finally got his root canal done so hopefully I won't have to see him miserable and in pain for a while.

I don't honestly remember what happened earlier this week, because my brain is blotto. I blame the lack of coffee, and distraction of poverty and having Scotsman's family visiting in 4 hours...for the weekend...and he's not up yet....and the laundry isn't done...and neither is the bathroom...and and and. Phew.




I of course must mention my Pinktastic Swaptastic package from the wonderful Brandy at You Don't Know. That was totally the highlight of my week! I've already used (and eaten) every single thing she sent. Muahaha!


(image copyright Nicole Weston)
I rocked the kitchen this week. I made orange pudding cakes for Scotsman's birthday, and cooked almost all of our meals this week. See, Scotsman went to Le Cordon Bleu (same as Julia Child), while I learned in the kitchen of my mom and my oldest brother. So when I make something totally off-the-cuff and Scotsman likes it, I feel pretty darn talented. :)
(I couldn't resist! If I ever have a baby, I am sewing this outfit for him/her...too cute! Oh, and copyright its website)


I'm on a baby-clothes-making kick. Look for a tutorial sometime next week. It's such a great way to use up my leftover scraps of material! Which is good, because something that's NOT on my happy list is that next week I must sort my fabric and sell the nice stuff on Etsy or Ebay. Did I mention that I hate being poor?



(image copyright its website)

I did get to two fitness classes this week. I was hoping to make it to 3-4, but between cycling for an hour one day, water aerobics for an hour the next day, and donating platelets the next day, I'm wiped. But I feel accomplished, and am excited to try the other fitness classes on my list next week!


(image copyright its website)

And lastly, I'm happy because Angie and I are in the planning stages of a super secret swap. OoOoOoOoOo.....more info later!

Labels: happy list