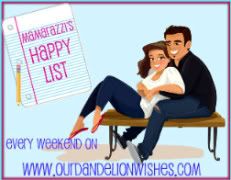 What a week! I couldn't keep my days straight, so I ended up almost missing some events, missing some fitness classes, forgetting to take out the trash...sometimes, I swear, I have Alzheimer's.
Things that made me HAPPY this week include:
(french bread, fresh seared scallops, and steamed halibut with thai yellow curry over jasmine rice)
This amazing meal Scotsman cooked for me last night. I asked "what's the occasion?" and he said "you". Awwwww!
But seriously, this is why I can't lose weight.
(this is the aftermath. When Scotsman cooks, he uses every plate, utensil, pan, and pot he can grab. Chefs, ya know?)
~~~~~~~~~~~~~~~
I have been sewing baby clothes like a mad woman. My childhood friend, Blondie, met and married his soulmate, Giggles, a few years ago. I have never seen him so happy, so settled in his life and mind, so utterly in his own skin as I have when he's with her. It is truly inspirational.
And they're having their first baby! It's a boy, as yet unnamed, due next week. So I'm in a rush to finish these clothes and send them out. I've made two pairs of pants, booties and a matching cap, a footsie romper, and a not-so-awesome mobile.
~~~~~~~~~~~~~~~
I finished another necklace! This one, for absolutely no one in particular. I picked up the gecko charm and he said "love me!". So I did. I'm not 100% happy with it, as I think the seed beads might be too small to balance how large the pendant is. But for now, it's fun to look at.
~~~~~~~~~~~~~~~
BOWI
is having their first late-night concert in a loooong time tonight, which means a true party. I can't call it a GNO, as it's mostly boys there, but I'm bringing
Flat Mamarazzi
along for the fun. Irish music, as a fun local Irish pub, with friends (at least one of which will be female), and a boyfriend who thinks I'm nuts for taking a flat along....what fun!
~~~~~~~~~~~~~~~
(if I were tiny enough to crawl across that...)
Aaaaand lastly, we had a ferocious wind on Valentine's Day. It knocked out power to most of the city (but not us), and brought down a tree branch on the garage.
No damage to the roof, which is why this is on my happy list. Because it adds more uniqueness to my morning view, and....the birdies love it! Every time they're out, they perch on it and sing to me. It's really windy again today, so I'm thinking we might have a third branch to add to the collection. ;)
Research has proven that happiness is contagious. So go on and spread the joy. What's on YOUR happy list?
:)
Labels: happy list