I get to mail out my Cheer Up swap package tomorrow! I was paired with Jane from Jumpin' in the Jungle, and I think I compiled an awesome package for her. I wanted to make sure to include stuff for her whole family to enjoy, and everything in there relates to Spring. Yay! :D




Also, I felt guilty for missing my Functional Fun aerobics class this morning (I was distracted by job searching....honest!), so I went for a 2 mile walk instead. At the 2 mile point, my hips started yelling at me. WTF, hips? How am I going to survive the zombie apocalypse if you can't keep up with my feet and legs? Sheesh.




I finally get to catch up on Face Off tonight. I really thought Syfy would put more than the first episode of their new flagship reality show on their website, but I guess they're still the idiot bastards they were when they cancelled Farscape choosing not to. This is the only reality show I watch. I don't care about other people's drama, but other people's creativity? I'm all over it.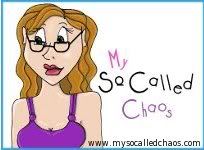 Angie has been working on a sketch of a button for me for my itty bitty blog. Isn't she the best?! I'm so excited- I've been wanting one for a while now. Some of you have such lovely blogs, it's like walking into a really nice home. Mine is...more like a rental. I think a personal button will REALLY help with that.

I'm not doing the Teaser Tuesday meme today, because I'm still reading Persuasion. So there.




Lastly, I need html bloggy code help. Can anyone instruct me on how to make a page header show up (in that list of 'pages' on my blog) that acts as a search function, to display only posts with a specific tag on them? My goal is to have that DIY Projects link up there direct people who click on it to a page with all posts tagged DIY....I have seen this on other people's blogs, but I cannot figure it out on my own. Thanks for any advice you can give! :D



(all images copyright their respective websites)

Labels: blog swap, fitness, randomness