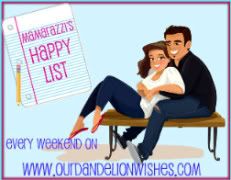 This week kind of blew by me. I had so much to do, and I slacked.
Thats not a happy list item, just a disclaimer.
I am happy...
Because my garden is really taking off! Except for the peppers and sage, which have yet to make an appearance. WTF? Everyone else is outgrowing their pots. Pshkaw.
I am happy...
That I will have a spare second today to transplant the tomatoes and potatoes into better growing areas. As long as the rain holds off. *glares at the clouds*
I am happy...
That emails are being exchanged regularly with my crush and myself. Hrmm...I need a nickname for him. So far, everything is casual and friendly and nice. With a teensy bit of flirtation. Just what I need!
I am happy...
That I wogged twice this week, for almost 4 miles total. I feel very powerful when I'm jogging around the track with some Frou Frou or Lily Allen or Goldfrapp in my ears.
I am happy...
That I went to Viennese Waltz class, and my body said "this ol' thing? I remember this". I was so bored with the pace of the class that I left, halfway through. Yeah, I'm snotty like that.
I am happy...
That I discovered a PBS special called "Circus". Watching it makes me feel cooler. And reminds me that I will always have that circus dream, whether with dancing professionally or being a groom for the knights. Also, the show's music selection rocks.
So what's on YOUR happy list? Pop on over to Mamarazzi's to link up! :)
*All images other than the first are not mine and are copyright their owners!
Labels: happy list