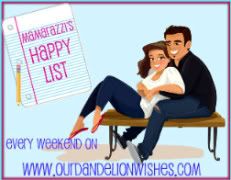 Happy List Time!
I am happy...
That so many of my bloggy friends are losing weight and getting fit right now. Even though we're all time zones apart, it feels like we're part of the same support structure. And it inspires me to work harder at losing weight.
That being said...
I am happy...
That I got tipsy with my mom at the burger joint and bar in Kennewick. All it took was one dark ale on an empty stomach. There may or may not have been the rapid consumption of an Elvis burger and sweet potato fries afterward. Which means I must re-start that 'no flour' thing today. Silly lack of willpower.
I am happy...
That I still have options for employment. I haven't yet exhausted all avenues, and even though the government is tossing me to the wolves in two weeks, I'm still holding my head (and resumes) high.
I am happy...
That I get to host my own chocolate cookbook giveaway (see earlier post). It's something I wanted to do on my own to reward my amazing readers. Y'all rock my stripey socks, and I love the joy you've shared with me!

I am happy...
That my partner for Janna & Liz's Spring Swap was the amazing Bracey of Handmade and Lovely. If you have not met her via the blog, you absolutely should.
She's creative, artistic, intelligent, and apparently great at time management (working toward a degree, managing an Etsy shop AND blogging regularly)!
She's hosting a giveaway for some of her faboo vintagey jewelry, and she recently spoiled me rotten with a fabulous swap package. I can tell this is another bloggy match made in heaven! :)
What's making YOU happy this week?
Labels: happy list