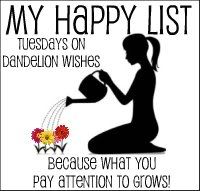 I'm happy...
That it's SNOWING! It paused for so long last night and this morning that I was giving up hope. But now it's white-out conditions and people are leaving work like fleas off a dipped dog. Wahooo!
I'm happy...
That I'm losing weight on PINK. And also, I have started feeling more clear and energized and lighter. Happy!
I'm happy...
That my Sunday lunch date was a lot of fun. Whether anything comes from it or not, it was nice to have a 100%-awkward-free blind date.
I'm happy...
For the spate of friends moving on to better things, employment-wise. Some hurt more, some hurt less, but I'm happy for all of them that they're getting opportunities, taking challenges, and making positive changes. Change is good!
Labels: happy list