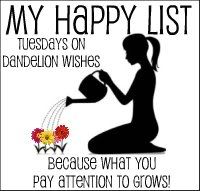 I'm happy...
That I started the fitness portion of PINK, and am seeing real results.
I'm happy...
That Zao, who is doing PINK alongside me, and was the one who got me into it, is having even more spectacular results, and she's only on the Reset/diet part! You go, girl!
I'm happy...
That I reconnected with an old friend who moved (coincidentally) from CA to 20 minutes from me. Wahoo!
I'm happy...
That I'm being proven wrong about not dating. I'd be all "damnit, I had a PLAN!", but this is better. Especially with the seeing Smokey, flirting with D, emailing with Bear and Viking....I have a feeling the Universe is talking at me.
Labels: happy list