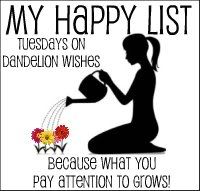 I'm happy...
That I still have a job.
I'm happy...
That I get to see Viking tomorrow (remember that gym date I was excited about? I'll try not to injure myself while trying to show off for him).
I'm happy...
That I'm making a 'change of life' decision this afternoon. Not to worry- pics will follow!
I'm happy...
That progress is being made with the novel (of doom). Otaku was skeptical that we would finish is this year, which of course makes me want to throw everything I have INTO finishing it.
I'm happy...
That Viking showed up unexpectedly while Zao and I were doing an exercise walk. The romantic in me always hopes for happy surprises like that, but rarely (if ever) gets them. Yay for happy surprises! (and also for Zao, being her awesome self)
I'm happy...
That I weighed in today at 165.5- I'm digging it! This is the result of walking 7 miles yesterday, having a protein shake for dinner, seeing Zao, seeing Viking, and the sun. Wahoo!
Labels: happy list