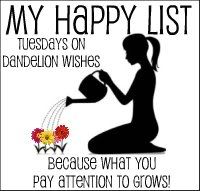 I'm happy...
That I'm wise/mature enough to recognize when I'm spazzing out, and take a step back. Especially when it comes to menfolk.
I'm happy...
That work is keeping me busy enough not to stress out about the little insecurities of mine that are popping up with regard to Viking (and directly because of Boysenberry, Spokane, Blue, etc).
I'm happy...
That I love alone, and thus can similarly keep myself engaged over the weekend by sewing (or cutting out patterns at any rate), walking, working out, doing laundry, writing, and sending random gifts to strangers.
I'm happy...
That I get to have dinner with Sparks tonight, at a specialty burger place no less. We're celebrating being single. Yay!
I'm happy...
That I got to spend time with my amazing friends over the weekend (most of them, anyway), including a house warming, Disney, networking, noshing, catching up, and acting like an 8 year old. More yay!
Labels: happy list