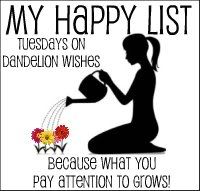 I am happy...
That I have a gym date with Viking tonight. The last one was fun, and I'm still in awe that 'gym' and 'fun' can be in the same sentence. But he works out VERY differently than I do, and so I feel like I'm learning news things.
I am happy...
That Viking is so patient. I'm a godsawful hormonal emotional mess of a woman this week, and the more I fight against that, the more of a wreck I become. One of these days he may decide I'm too nuts, and walk away, and I hope that isn't any time soon.
I am happy...
I am happy...
That I got such an awesome swap package from
Vandy
! And book swap package from
Lena
! It's like Christmas up in here.
I am happy...
That Valentino is getting more playful. Unfortunately, he's decided I'm too scary to pet him anymore, but at least he's running around batting toys and chasing the laser.
Labels: happy list, randomness