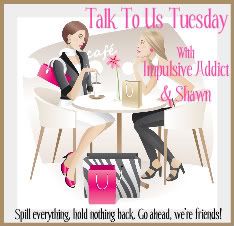 It's two...two...two memes in one!
First off, many thanks to Shawn and Impulsive Addict for hosting this seriously impulsive swap! I was partnered with the ever-fabulous Vandy, from
The Testosterone Three and Me
. For those of you who don't know her, Vandy is a generous, busy mom who is continually buried under laundry. I half expected Bruiser to end up in the box sent to me...but instead, I got a passel of PERFECT goodies! (which is excellent, because I know how to use sewing materials....a kid? Not so much)
I love the primary colors! I wrapped mine randomly, so I didn't expect such pretty Spring-esque tissue paper.
A pin holder with cushion built in....perfect for my stitch-n-bitch traveling needs! And the book looks like a hoot ("The Secret History of Elizabeth Tudor, Vampire Slayer"). She also sent some "royal crest" metal buttons, and two sets of frog closures that look like hand-beaten designs....brilliant for my upcoming costumes!
A close-up of the 'royal crest' style, which I think I'll put on my steampunk shortcoat.
Pree-on nails (YES! No waiting for the polish to dry!), a heavy-duty sewing kit (for canvas, leather, and all the hides/furs I haven't been able to touch because my needles are usually quite wussy), and cat toys for Valentino.
Sea turtle salt and pepper shakers! These little guys are too cute, and look great on my table (or will, after I get the seedlings potted and get my table back).
More cat toys for Valentino (who thanks you, and is now running around like a spaz) and chocolate for me (which, after this hormonal Monday, I needed....I inhaled them both- thank you!)
I had a lot of fun getting random impulsive things (that, thankfully, survived the journey out there which apparently included snow and closed roads), and continuing to get to know Vandy (who was no stranger to begin with, being one of those down-to-earth mom bloggers who always seems very even-keel and positive).
Yay!