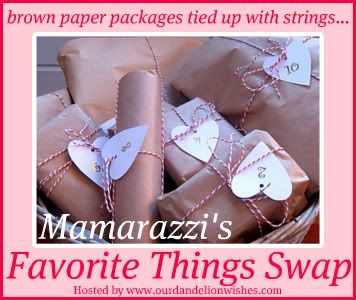 I want to thank Mamarazzi for hosting this fun swap, which enabled me to stuff a box with some of my favorite goodies (tied up in brown paper and with ribbons, naturally). I also want to thank the fabulous Janna, who was my partner. I've been a follower of Janna's blog for quite some time now. She's very honest and sweet, she loves Downton Abbey (muahaha), and her blog includes a lot of pics (which I love).



On to the package!



(Isn't this package adorable? It's so SPRING!)
(I love that our favorite things are so similar!)
A sweet handmade card (currently decorating my cubicle), a purse-sized notebook (for story ideas!), a pretty breezy scarf perfect for summer and my sundresses, Burt's Bees lip balm (which I collect by the dozens), a Life Is Good shirt (my first ever! Which is odd, because it's kind of my motto), a water bottle in my color, and a nummy-scented lotion (called Pearanormal Activity- ha!).
I want to applaud
Janna
on her good taste, and on apparently knowing me very well. Or, at least, being a similar person to myself. :)
I love it all!