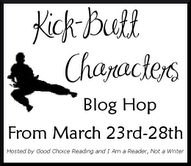 A big THANK YOU to everyone who entered by Kick-Butt Character Giveaway Hop this week! I look forward to hosting many more giveaways in the future.



And now, without further ado, the winner of Philip Pullamn's His Dark Materials trilogy paperbacks is...

Congratulations gala!



Lots of love to the Kick Butt Characters Hop hosts: Good Choice Reading & I Am A Reader, Not A Writer.