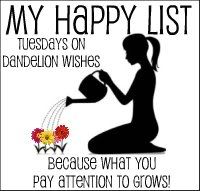 I'm happy...
That almost all of my seedlings are sprouting! I hope they flourish.
I'm happy...
That I am filled with plans for SCA events, costuming, dance classes, and more. They may not all bear fruit, but planning them is half the fun.
I'm happy...
Tonight Zao and I are going swing dancing. Wahooo!
I'm happy...
Because Mountain & River are considering visiting me and maybe moving out here. I would LOVE that! I am already making plans and schemes. We could be neighbors!
I'm happy...
That everyone is in support of my
Pubgirl Reviews
project. I promise to be safe, and classy, and have a good time. And I'm also using it as an exercise in enjoying being out by myself. For science!
Labels: costume, garden, happy list, plans, sca