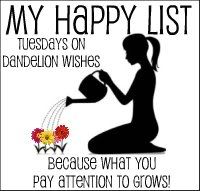 I'm happy...

That I'm on the mend, after an illness that had me bedridden for days. I am lucky that I haven't been that sick in years, but it was truly life-halting for 3 days. I'm still trying to catch up!




I'm happy...

That my pace of life is on a happy little hum right now. I am, for the first time ever, successfully balancing work, sewing, writing, and homemaking. YAY!





I'm happy...

That, being employed, I can afford the $1K repairs that my car needed today. She's been leaking oil and limping along on nearly-broken belts for months now.





I'm happy...

That plans continue for Mountain and River to come out...maybe even a job for River in the next few months. Wahoo!





I'm happy...

That my willpower in both giving up men and giving up gluten has held. I thought it would be a constant struggle, but it turns out saying 'no' is habit-forming.

Labels: balance, empowered, family, happy list, health