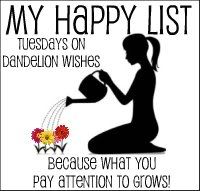 Happy List time!
I'm happy...
That Valentino is in perfect health, other than a dental issue. This requires antibiotics for 6 weeks, and even though he hates me shoving a pill down his throat every night, he also forgives me about 10 minutes afterward. Is he that loving? Or that forgetful? Either way, I'm happy!
I'm happy...
I'm happy...
That Zao and I are going swing dancing tonight. For realz! I keep dodging it, I think partly due to chronic exhaustion, and partly due to being easily intimidated in social settings (I used to be a swing dance rock star, but that was over a decade ago, so now I feel like a slug).
I'm happy...
That I'm making real progress on both my Norse Dress and my Steampunk outfit. And also my reading. And also my housework. And also my garden. And even starting to make tiny baby step progress with the novel. I blame the sunshine for this sudden productivity!
I'm happy...
That I live in a place where this happens:
(That's bright sun AND a light shower at the same time!)
Labels: dance, happy list, productive, rain, sewing, social, sunshine, valentino