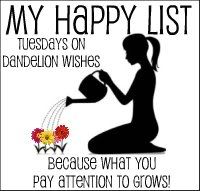 I'm happy...

'Cuz it's MAY! This month, for me, is always the epitome of Spring. And, for some reason, a very sexy month as well.




I'm happy...

That things are looking up for my middle bro, in all aspects. Happy family makes me happy!

(Taken in 2000)


I'm happy...

I have a New Plan for getting myself back in the habit of writing. When I wait for the stars to align and my muse to whisper in my ear...well, it just doesn't get done. So I'm being proactive about it.





I'm happy...

That I'm being considered as a background role for a period film. It's been a dream of mine for a long time, and I'm very grateful to have this opportunity. I should hear about casting within 48 hours or so.





I'm happy...

Because Miss Angie and I have a swap plan in the works....more info will happen soon, but it's another unique one!