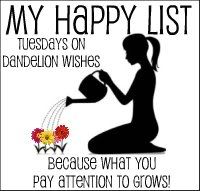 I'm happy...
'Cuz I'm dating an amazing man. He's smart, funny, handsome, romantic, down-to-earth, optimistic, talented, adventurous, sweet, and totally sympatico with me. Suffice to say, I'm smitten by him.
I'm happy...
That I'm hosting the Books 'n' Bloggers swap with Miss Angie. Have you gotten books for your partner yet??
I'm happy...
To be making plans for trips, both with the family and to visit Fedora (and my San Diego friends). Planning trips gets me excited about the future, even when work is a headache.
I'm happy...
That I'm taking Lindy Hop classes! So far it's going well, though the boys in the class are....learning. Some, faster than others. So far we've learned the basic steps, including a swing out from open and a swing out from closed.
Labels: adventure, blog swap, book love, dance, fedora, happy list, smitteny, trips