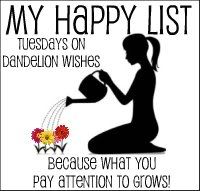 I'm happy...
That right now, packages of books are winging their way across the nation, sent from our intrepid swappers. Y'all are amazing folk!
I'm happy...
That mine arrived last night. I haven't opened them yet, but I did open the box to find that
Stacie
had wrapped and labeled each one. What a sweetheart!
(and why didn't I think of that? D'oh!)
I'm happy...
That things are going so well with Fedora. We use Skype every night, which really helps with the fact that it being long distance means we can't build memories together as quickly as other couples can. We do talk more than others do, though, I think. And that's a wonderful kind of intimacy, in itself.
I'm happy...
That I had a good visit with my mom last week. I'll be visiting my folks this weekend (hey, life is short and family is worth a 4 hour drive each way). There is cherry and wine sampling to be had!
I'm happy...
That the summer solstice is tomorrow. Wheee! Apparently 47 or 48 states have had a warmer than normal Spring (guess which state was lucky #48 and had a COLDER than normal Spring?). In my mind, this means summer will finally bring the warmth we need out here (and the sun- my tomato plants really need some long sun!)
Labels: book love, fedora, happy list, parents, park avenue, reading