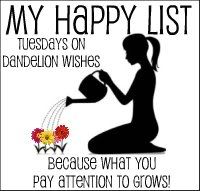 I'm happy...
That the 16+ blood tests have come back totally normal and healthy. It doesn't help the 5+ doctors and specialists figure out what's going on, but it tells me that I am pretty darned healthy. Also, that we've definitely ruled out gout and any auto-immune disease.
I'm happy...
That my doc has A Plan. Honestly, I'm the kind of gal who can hold down the panic as long as there is A Plan. I just need something to hold onto, mentally. The current plan is an MRI tomorrow. Anyone had an MRI? Is it boring? Scary? Painful?
I'm happy...
That my mom was able to come out and take care of me this week. Not happy to be so helpless, but it makes a world of difference to not be alone during all this pain and uncertainty.
I'm happy...
I'm happy...
That I am dating an amazing man. Throughout this, he has kept my spirits up, talked me down from the fear, and been my emotional rock.