I'm mashing up two memes here, because I'm short on time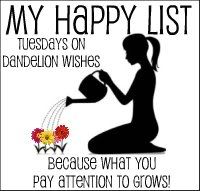 I'm happy...
That I'll be camping with the family, tomorrow through Sunday. I still have scheduled posts, but I won't be able to read your blogs or respond to comments until I return. Because I'll be totally enjoying this:
I'm happy...
That the weekend AFTER my family cabin trip, I'll be spending time with my sweetie. Talk about an awesome July!
I'm happy...
That the majority of participants in the Books 'n' Bloggers swap did not flake or ignore the rules. I love you guys- you make the stress of dealing with the flakers so much easier to handle!








And CURRENTLY....I am


READING: "Jane Austen Made Me Do It"
WISHING: I was healthy for these trips (in addition to bizarre joint thing, I have massive headcold right now)
DREAMING: Of the day when Fedora and I live together, instead of 1,200 miles apart
PLANNING: My posts and work stuffs while I'm away
WONDERING: What my future holds

Labels: camping, currently, family, fedora, happy list, reading