I confess...

I *am* excited about my 200 Follower Epic Giveaway of Doom! Why is it epic and doomful? Because instead of giving away a gift card or book or product, I'm giving away SIX BOXES full of unique stuff (including jewelry handmade by me, books, candy, perfume, etc). Because I love you gals!




I confess...

I've been increasingly more impatient about starting a life that includes Fedora in it, in person, every day. We talk on Skype every night, and even have a Sunday morning coffee date via Skype, and that's going very well. But we're both action-oriented people, in addition to being talkers, and I want to BEGIN all those plans we keep making.





I confess...

The impatience wouldn't be so bad if it didn't mean one of us making a major life change to make it happen. I get nervous about me doing it, because I've tried and failed at it before, and I worry about how my family will judge me, and how it will impact my future career. But I get nervous about him doing it because I have a hyper-active guilt drive.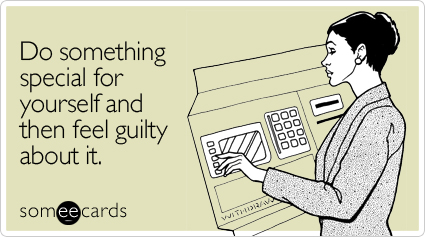 I confess...

I'm either going to learn patience, the hard way, or snap and do something totally irrational.
Instead, I will leave you with these:

Labels: fedora, friday confessional, guilt, impatient, nerves, swinging, work