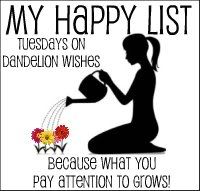 I had a happy birthday last Saturday- thanks to all of you for your kind wishes and smiles!
I'm happy...
That Fedora will be coming for a visit in 25 days! Waiting patiently is so difficult.
I'm happy...
That I have a loving family, a supportive boyfriend, caring friends, and a steady paycheck. Sometimes I get caught up in stress and forget to count my blessings.
I'm happy...
That
Miss Angie
and I will soon be hosting the Swapoween! Have you checked out our new Swap tracking and notification site,
ChaoticGoddessSwaps
? Signups don't happen for a few weeks yet, but I'm already seeing Halloween themed stuff on sale. And plotting. Muahaha!
I'm happy...
That even though I don't have the green light to move forward with future plans, I can feel empowered by doing research regarding them. Research Virgo is happy!
Labels: blessings, blog swap, cgswaps, chaotic goddess swaps, evil, fedora, happy list, plans, plotting, swapoween