With the holidays coming, it's easy to spend a fortune getting gifts (and even cards) for everyone that you love. I don't know about you, but I hate spending a fortune, and I love making personalized gifts for folk.

Whether it's for the holidays, another celebration, a housewarming, teacher's gifts, etc, here are some fail-proof DIY recipe gifts. Enjoy!



Homemade Granola (for the health nut)
Makes: 13 or so bags of granola (using 2-3 cup amounts in a plastic food-grade gift bag)
Ingredients:
6 cups rolled oats
2 cups pepitas
1 cup honey
1 cup olive oil
1/2 cup light brown sugar
1 tsp vanilla extract
1 tsp kosher salt


Toss all ingredients together
Bake on a cookie sheet or two at 300 degrees (stir occasionally, so they brown evenly) for 35 minutes
Let cool
Optional: Mix in 2 cups dried cherries or other fruit if desired, after cooling
These last for up to 3 weeks, and make a great snack or cereal that's filled with love!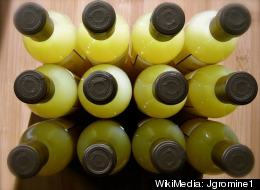 Limoncello (for the sophisticate)
Makes: 12 cups, to parcel as you see fit into glass bottles with stopper lids
Ingredients:
10 lemons
2 750 mL bottles of vodka
3 cups sugar
4 cups water
Zest the 10 lemons (you can use them for making lemon pie!)
Combine the zest with the vodka in a covered container
Store in a cool, dark place for 5 days
Strain the zest out
Combine the sugar and water and simmer until the sugar dissolves
Let cool, then add to the vodka mixture
Keep it refrigerated and it will last for up to a month, which is excellent for the party hostess.
Butterscotch Dessert Sauce (for the sweet tooth)
Makes: 6 cups
Ingredients:
1 cup unsalted butter
2 cups light brown sugar
2 cups heavy cream
1/2 tsp kosher salt
Melt the butter and add the brown sugar, stirring on med-high until smooth
Add the heavy cream and let it simmer, stirring occasionally, until thick
Stir in the extract and salt
Let cool and keep refrigerated
This sweet sauce lasts for up to 1 month, and it great over ice cream, pie, and tongues. It looks beautiful in a clean-out glass jar with a few holiday decorations
Hot Pepper Sauce (for the spice-lover)
Makes: 2 cups (parcel into 1/3 cup portions in cleaned condiment jars)
Ingredients:
15 jalapenos, seeded and halved (wear gloves for this and wash your hands often)
1 bell pepper, seeded and quartered
1/2 cup white vinegar
1/2 cup water
1 Tblsp sugar
1 tsp kosher salt
1 Tblsp vegetable oil (canola works best)
2 Tblsp corn starch or thickener
In a blender, puree the jalapenos, bell pepper, vinegar, water, sugar, and salt until smooth
Heat the oil in a pan and add the blenderized mix
Add the cornstarch and simmer, whisking frequently, until thickened
Let cool, strain the skins, and keep refrigerated
Prove your hotness in the kitchen with this zesty pepper sauce (akin to Tabasco). It lasts up to a month, and will keep your friends coming back for more!
(all images and recipes here are not my own invention- thanks go to the creative mavens who developed them, and the photogs who inspired me with their images)
Labels: DIY, easy to make, gifts, holiday, recipe, tasty noms