Synopsis according to GoodReads:
"
Jane Hayes is a seemingly normal young New Yorker, but she has a secret. Her obsession with Mr. Darcy, as played by Colin Firth in the BBC adaptation of Pride and Prejudice, is ruining her love life: no real man can compare. But when a wealthy relative bequeaths her a trip to an English resort catering to Austen-crazed women, Jane's fantasies of meeting the perfect Regency-era gentleman suddenly become realer than she ever could have imagined.
Decked out in empire-waist gowns, Jane struggles to master Regency etiquette and flirts with gardeners and gentlemen;or maybe even, she suspects, with the actors who are playing them. It's all a game, Jane knows. And yet the longer she stays, the more her insecurities seem to fall away, and the more she wonders: Is she about to kick the Austen obsession for good, or could all her dreams actually culminate in a Mr. Darcy of her own?
"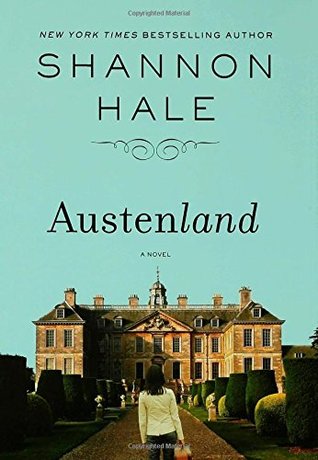 Having never read a Shannon Hale novel, I was expecting Austenland to be a fun romp. And it was that! But it was also an arrow that hit close to home. Through the multiple layers of humor and wit (and the wonderful Austen novel parallels, some obvious and some subtle), Hale weaves a story much like my own.
You know...when you're a romantic woman who can't have a fling to save her life, and is always looking for The One? Especially if he dresses like Darcy and looks like a wet Colin Firth? I was cringing with familiarity throughout this novel...though laughing aloud while I did it.
If you're looking for a fun, lighthearted, romantic comedy, this is a great pick. It'll have you wanting to re-read your Jane Austen novels, dress up in Regency attire, and attend a Pembrook Park of your own. Plus, her wit and sharp humor have a wonderful educated appeal. I will definitely be picking up more Hale books in the future.
(Please, please tell me such a thing as Pembrook Park exists in real life because I would work there for free!)
Labels: austenland, book review, contemporary, darcy, funny, historical reenactment, jane austen, romance, shannon hale