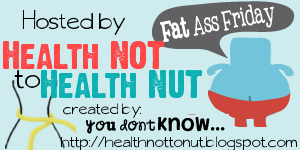 Well, it was foggy and freezing all week, so I was a huge slacker. It's not an excuse (and either half of a crepe cake is inexcusable), but that's life for ya. Also, I tried Jillian Michaels' Standing Abs workout...and damaged myself.

I'd like to say that's a first, but it's a sad pattern that I have with working out- I bend the wrong way, damage myself while working out, then can't work out for a few days while I heal.
Damn you, Jillian Michaels, for making it look easy!
Current Stats:
Starting Weight: 173.5
Last Week's Weight: 174.5
Today's Weight: 175
Loss/Gain This Week: +0.5
Total Weight Loss: +1.5
Tues- Walked 1 mile with Fedora and started Standing Abs workout
Wed- Recovered from damaging myself
Thurs- Recovered from damaging myself
So, obviously, most of this week was spent on the couch. I'm still in pain and having trouble walking. I hope that all wears off soon, so I can get back into working out. More safely.
Labels: fat ass friday, jillian michaels, walking, weight loss, workout