You may have noticed one of my sponsors, to the right -------->
That's right, the purple one, for the blog called "Everyday Life".
Everyday Life is one of those rare, truly-personal blogs.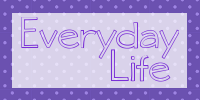 She does fantastic product reviews, as well as personal memes.

She gives the heads' up about promotions and giveaways that we fellow bloggers can get in on.

She tracks her personal weight loss journey (which is no easy thing), and participates in RAK.
But my favorite thing about Becca at Everyday Life is how very supportive she is. She leaves comments regularly (something I aspire to but never seem to be able to do, myself). She is always cheering you on. She devotes a page of her blog to spreading the word about some of her favorite bloggers.
I get the sense that, if blogland were a high school, she'd be the gal chatting up everyone at lunch, making the social rounds and befriending everybody.
As much as I enjoy blogs that focus on crafting, or sewing, or book reviews, or cooking, I breathe a sigh of relief when I peruse Everyday Life and it's very personal touch.
If you're looking for a good source of bloggy info and contacts, on a very approachable blog, run by a down-to-earth gal, Everyday Life is the one to follow!
Labels: becca, blog love, everyday life, sponsorship