This week's look...

Mineral Basic's Marshmallow on my browbone and inner eye corner
NYC's silver grey over the inner half of my lid
Sweet Libertine's Smoking Gun on the outer half of my lid and blended into the crease
Mineral Basic's Mermaid as a liner on my upper lid and outer-lower waterline
Physician's Formula Mineral Mascara on top and bottom lashes
I always get nervous about wearing blue eyeshadow (I'm a child of the 80's, after all), but apparently as long as any color has shade gradients, it works. As a side note, it's easy to blend two or more mineral makeup eyeshadows and create a new hue. I'm getting a bit tired of my Mineral Basic shades, so I have been experimenting. Muahahah! *ahem*
A tip: When using mineral makeup eyeshadow, tap the color on rather than swipe. Tapping keeps a similar concentration of powder/color in each area, whereas wiping will just fade the color in the direction you're wiping (obviously, wiping works for blending). You can also build layers with repeated tapping, for more saturated color.
More inspiring looks can be found on
my Pinterest Board
!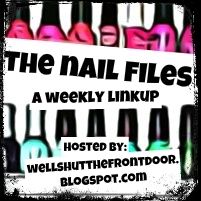 It's Zoya "Clara" and I'm officially done with pink nail polish. It seems every shade I grab is a peachy one that sort of blends to my skin. I guess I'm looking for more of a creamy light pink. Any suggestions? Especially if it's a brand without the Big 3 or Big 5 nasty chemicals?
Labels: eye spy, mineral makeup, nail files, polish