This week's look...

NYC's White on my browbone and inner eye corner
Mineral Basic's Chocolate Drizzle over my lid, blended
ULTA's Automatic Eyeliner in Black/Brown as a liner on my upper and outer-lower lids
Mineral Basic's Mermaid as a liner on my outer-upper lides
Physician's Formula Mineral Mascara on top and bottom lashes
I was concerned that the smokey eye day look was getting stale, so I shook things up a bit by only having one color, plus a browbone highlighter. And then a contrasting color as a subtle liner. I like the effect.
(Note: I did not extend my color above the crease, and should have, to blend it better. Can you tell I was in a hurry this morning?)
A tip: A chic look right now is to apply a thick line of colored liner, all the way across your lover lid lash line, and smudge it. The effect is that your eyes are floating on a pool of color, above and below. Be sure, though, to fully cover/neutralize any under-eye dark circles, because otherwise your eyes will appear bruised. You can do this with a neutral shade as well, but keep the line of medium thickness so you don't get the raccoon eye look.
More inspiring looks can be found on
my Pinterest Board
!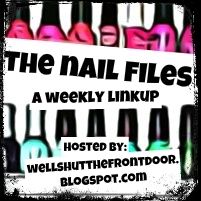 Hard to see, as the flash messed up the color, but that's Julep "Rebel" and Zoya "Vanessa" (which is more raspberry than red right now).
Labels: eye spy, mineral makeup, nail files, polish