I thought I'd shake things up a bit this week and post a demo.
I have never worn false eyelashes before, but with Guys & Dolls coming up (tomorrow! meep!), I thought I'd try wearing them with my stage makeup.
I'm trying Kiss EverEZLashes today.
These lashes are reusable, which means (hopefully) I can wear one or two pairs for all 8 performances.










(and there you are- a total newbie can use these, given enough time to play with application. My tip: start at the inner corner and commit right away. And use more glue than you think you need- better to have them stay all day then start peeling off after an hour! I'm pleased to say these stayed on for 5 hours and after the glue dried I didn't feel them AT ALL.)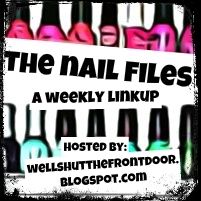 I'm wearing Julep's "Carrie". I'm not a big Julep fan, due to the inconsistency in their products. However, I have been trying like mad to find a good, 3-Free pink polish that doesn't have yellow or orange tones in it. On Miss Angie's recommendation (one of several- thank you for yours!), I bought this one. And tada! It works perfectly!
Labels: eye spy, false lashes, nail files, polish, tutorial, video