This week's look...

NYC's White on my browbone and inner eye corner
Arbonne's Moss over my lid, blended
Mineral Basic's Hard Candy as a liner on my upper and outer-lower lids
Rimmel London's Lash Accelerator Endless Mascara on top and bottom lashes
I wanted to try a liner that built on, instead of contrasting with, my upper lid color. Hard Candy is a shimmery olive gold, so it worked really well for that. Unfortunately, my choice of foundation is way, way too dark for me.
A tip: Apply your mascara evenly by slowly rotating/spinning the brush as you sweep the wand from base to tip of your eyelashes. This ensures the wand isn't thin on mascara by the time you reach the tips of your eyelashes.
For more coverage, close your eye after the first coat is dry and apply the same way to the backside of the top lashes (base to tip).
For intense, Twiggy-esque lashes, wait until that second coat is dry, and then apply a third, on the front side, base to tip, by shaking the wand horizontally left-to-right as you brush up the lashes.
In effect, the first coat darkens the front side, the second coat darkens the backside (and thickens the lashes in doing so), and the third coat darkens the side of each lash hair (and further thickens). Be sure to wait until each coat is dry, though, or you'll be removing mascara with the brush instead of applying!
More inspiring looks can be found on
my Pinterest Board
!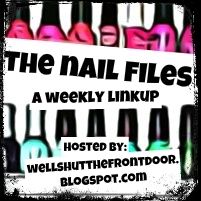 Zoya's "Bevin". It's a cloudy, subtle blue, very 1940's, much less green and less bright than "Wednesday" but equally lovely.
The picture give it a more intense color than I think it has in real life.
Labels: eye spy, mineral makeup, nail files