This week's look...

NYC's White on my browbone and inner eye corner
ULTA's Bermuda Sand over my upper lid
Mineral Basic's Chocolate Drizzle on my outer upper lid, blended into the crease
Rimmel London's Lash Accelerator Endless Mascara on top and bottom lashes
I was going for shimmer bronzy brown, hoping that it'd come across as office-friendly but youthful. And after a couple of hours, Bermuda Sand migrated oddly into a whiteish silverish eyeliner. Huh? I'm gonna stick with contrasting colors from now on, I think.
(Also, apologies for the darkness. I was trying to use natural light, in Seattle, at 7am. Ha!)
A tip:
To make eyebrows appear fuller, use a matte (not sparkly) neutral brown tone as close to or one shade darker than your natural brow color. Use an angled eye brush and gently apply within the boundaries of your natural brows, extending and feathering the outer line a bit. Use a little bit of powder at a time, to keep from having a painted-brow look.
More inspiring looks can be found on
my Pinterest Board
!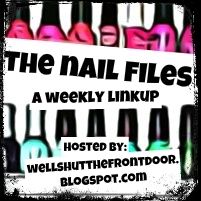 Zoya's "Noel" with Kiss Dress Nails in Gown on my pinkies. I thought the asymmetry might bother me, but it's actually kind of sweet. And I can't stop running my thumbs along the nubbins of the Kiss Dress Nails strips.
Labels: eye spy, mineral makeup, nail files, polish