This week's look...

NYC's White on my browbone and inner eye corner
Mineral Makeup's Plum Pudding over my inner upper lid
Mineral Basic's Chocolate Drizzle on my outer upper lid
Mineral Basic's Drama as liner on my top lid and outer third of my bottom lid
Rimmel London's Lash Accelerator Endless Mascara on top and bottom lashes
I was going for a purple-ish smokey eye that was work-appropriate. Sometimes, a color looks far more dramatic and bright in the container than it does on your eyes.
A tip: When using under-eye concealer, instead of putting it in a half-moon shape under your eyes, try putting it in a wedge shape, where one side runs parallel to your nose, the back of it is under your eye, and the other side angles from the outside of your under-eye to the nose-parallel line. It doesn't have to take up half your face, just have the point be somewhere around your cheekbone. This draws the eye downward, minimizing the under-eye bags and darkness without having to pile on more makeup.
More inspiring looks can be found on
my Pinterest Board
!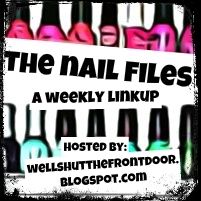 Ulta's Peach Parfait, which I was told is a very IN shade this year.
I disbelieve.
Labels: eye spy, mineral makeup, nail files, polish