This week's look...

NYC's White on my browbone
Noella's Pink Smoke over my upper lid
Sweet Libertine's Smoking Gun on my outer upper lid
Mineral Basic's Mermaid as liner on my top lid
This pic was just before I applied Rimmel London's Lash Accelerator Endless Mascara on top and bottom lashes
It turns out a smokey silver blue can pair with a grey pink really well. Too well, in fact- I needed Mermaid to keep things interesting.
A tip: If you're over the age of 30, instead of using blush on the apples of your cheeks, try putting it on the cheekbone (a little bit further from your mouth). Rumor has it this offsets the slight facial sag that starts happening around the age....as we lose fat in our cheeks.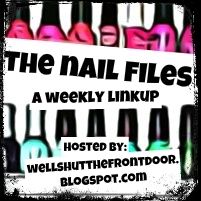 imPress Nails in "Over the Moon"
Labels: eye spy, mineral makeup, nail files, polish