This week's look...

NYC's White on my browbone
Ulta's Bermuda Sand over my entire upper lid, to the browbone
Noella's Pink Smoke layered over my upper lid to the crease
Mineral Basic's Drama as liner on my top lid
Rimmel London's Lash Accelerator Endless Mascara on top and bottom lashes
I'm just starting to play with layering colors. You can get some really nice, generally neutral tones out of non-neutral colors when you layer. For instance, this ended up a pinky brown more than a straight pink. Yay!
A tip: When applying mineral makeup, especially eyeshadow, don't brush. Tap. Tap the makeup on, because it needs to have your skin oils to cling to (and brushing will thin out the color application, and irritate skin every so slightly, and your powder will fade faster).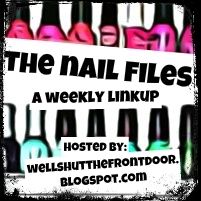 Candie's "My Lucky Charm" + Julep's "Adele" for sparkle.
Zoya's "Snow White" + Julep's "Adele" on my ring finger.
Labels: eye spy, mineral makeup, nail files, polish