This week's look...


NYC's White on my browbone
Sweet Libertine's Bookworm over my inner top lid, past the crease
Noella's Pink Smoke over my outer top lid, past the crease
Mineral Basic's Secret Potion as a liner on my top lids
Rimmel London's Lash Accelerator Endless Mascara on top lashes
Bookworm is a gorgeous light green gold, and I was at a loss of what color to pair with it. Pink worked well, but only once I put reddish-purple liner over it. Which goes to show you, sometimes contrast is more fun.
A tip: If you have hooded eyes, like I do, you'll need to extend your eyeshadow above your crease to show the color...otherwise it'll just look like a thick eyeliner.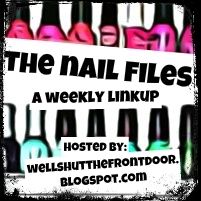 I've been wanting to try these for ages- they're basically vinyl-printed designs for your nails, so they're supposed to last a long time, not peel up (like press-on nails do), and they have some fabulous designs...
I thought I'd try pairing that cute little pink rose design with Julep's "Carrie"
The sample strips were only one size, so the Jamberry strip only fit on my pinky....
and unfortunately, it's hard to tell there are little pink roses on it, because it's so small.
BUT so far they've stayed put, through hand washing, dish washing, and meal preparing. And they were easy to put on. I really want to buy more!
Labels: eye spy, mineral makeup, nail files, polish