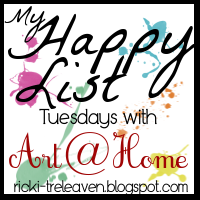 But I meant THIS:
Last Saturday, Dad took me fly-fishing on the Yakima, with a guide from Red's.
It was a gorgeous day, almost too hot for the poor fish, but we had a great time.
I learned a lot, I had QT with the pops, and I caught several fish (the river, like our family, is catch & release only).
My Dad taught me how to fish (lure and bait) when I was a wee one, and although he's been a fly-fishing angler for many years, I was always too intimidated to try.
At 32, I'm glad I finally did!
I'm not sure I'll be tying flies anytime soon, but I'm sure gleefully happy to now be able to wade in and cast like I know what I'm doing (erm...as soon as I get boots and a waders).
Also on the Happy List: Dad gave me the first rod he ever made, and a reel his father had given him. Both are excellent quality items, but the fact that they're heirloom....well....I'm honored.
And I'll be honoring them by using them, as soon as I get waders.
What do you think? Where should I go fly fishing??
*None of these images are mine. We were too busy fishing to take photos!
Labels: fishing, fly fishing, happy list