This week's chosen football team-inspired colors is the Minnesota Vikings!
Their colors? Purple, Gold, White.
Mineral Basic's Pomegranate Sparkle on my browbone and inner eye corner
ULTA's Bermuda Sand over the inner half of my lid, and lining my lower lid lashline
Mineral Basic's Secret Potion blended onto the outer half of the lid, and as a thick linker on my upper lid
Physician's Formula Mineral Mascara on top and bottom lashes
I initially considered going with gold as a liner, and purple all over my lids, but I wanted a look that wasn't too bold, for an office environment. Purple eyeshadow screams CLUBBING! to me, so I wanted to go easy on it.
A tip: What's the big deal with highlighting and contouring? It's a way to subtly affect the planes and angles of your face through creating or emphasizing shadows, and bringing the eye to a more light-reflective surface. There are tons of YouTube tutorials about it, and even after getting the hang of stage makeup, I refuse to post my own because I stink at it.
More inspiring looks can be found on
my Pinterest Board
!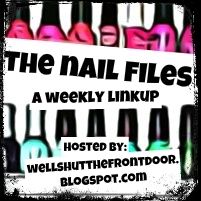 I wanted to do a fun Halloween-inspired nail look this week. Here's an easy one that's
meant
to be messy: Blood-Spattered Nails!
(I used Orly's Grave Mistake and Julep's Faye...plus a little plastic wrap)
Step 1. Paint 1 coat of neutral-colored polish and let dry thoroughly.
Step 2. Paint 1 coat of blood-red nail polish (do step 3 while still wet!)
Step 3. Immediately, press plastic wrap onto nail. Try not to smear or smudge, but just lightly apply directly to wet nail.
Step 4. Remove plastic wrap and allow nail to dry completely.
Step 5. Paint with topcoat, to protect from chips.
And voila! Nails that look like a scene out of Dexter.
Labels: eye spy, mineral makeup, nail files, polish