More football team-inspired colors!
This week's chosen team is the Miami Dolphins, because Shelley likes the colors.
Their colors? Aqua, Orange, White, Navy
NYC White on my browbone
Mineral Basic Mermaid on the inner half of my lids
Mineral Basic Suspense on the outer half of my lids
Sweet Libertine Thai Silk as a liner on my upper lids and inner lower lids, above the lashline
Rimmel London's Lash Accelerator Endless Mascara on top lashes
With as light a color as orange, I felt a balance was in order- upper lid liner, and inner lower lid liner. I don't recommend this if you wear contact lenses, but I put the lower lid loose powder above my lashline, where it will likely migrate into my eyes later today.
A tip: There are two schools of thought to lipliner, if you like wearing it. One is to outline your lips with it, then color your lips a bit with the liner and fill in with lipstick. The other is to line your lips but then smudge with a finger or smudge "eraser" for a soft, blurred, just-been-kissed look (still fill in your lips and cover with lipstick, though). One is a sharper look, best suited to powerful reds and corals and purples, the other is a romantic look, best suited to nudes and delicate pinks.
More inspiring looks can be found on
my Pinterest Board
!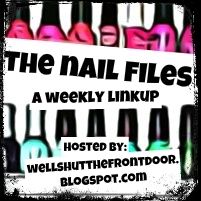 It's been a rainy Autumn thus far, and I was feeling whimsical.
So I pulled out the Xacto knife and cut up the chevron design, and fit it on every nail, against Zoya's "Creamy", for a Fiesta-meets-Charlie-Brown look.
(For the record, the Jamberry strips didn't hold up well against 3 layers of nail polish. I'm fairly certain they're meant to go directly on the nail, for the best adhesion.)
Labels: eye spy, mineral makeup, nail files, polish