Sweet Libertine Thai Silk over the inner two-thirds of my upper lid
Mineral Basics Secret Potion over the outer third of my upper lid, blended
Wet 'n' Wild Coloricon Black Black lining upper and lower lids
Physician's Formula Mineral Mascara on top and bottom lashes
A tip: For any job, you need the right tools. For makeup, you need at least: 2 brushes for eyeshadow (one for applying, one for blending), a flat brush for applying eyeshadow-as-eyeliner, a brush for blush, a brush for contouring/bronzer, and a brush for foundation (if you use powder foundation). Plus a concealer brush, if you use concealer. All have different edges and angles for optimum application. But ALL need to be cleaned 1-4 times/month!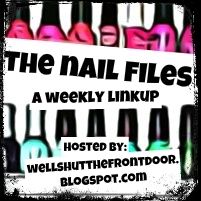 I wanted to do something Halloween and fun, and not too gruesome.
Zoya "Creamy", Zoya "Snow White", and Sally Girl "Mango Tango"
Step 1. Paint nails white (1-2 coats)
Step 2. Paint a strip of orange across the middle of each nail.
Step 3. Paint a strip of yellow across tips of each nail.
Step 4. Freehand (or draw boundaries first with a Sharpie and then use polish) at an angle with any black or neutral polish, to create Candy Corn shape.
Step 5. Have a glass of red wine and admire the fact that your nails look reasonably okay.
Happy Haunting, Lovelies!
Labels: eye spy, mineral makeup, nail files, polish