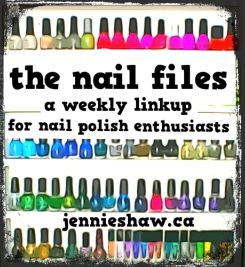 This is what happens when you mix a glass of wine, free time, and girly girl nail polish. I'm pleased it came out the way it did, honestly....halfway through my "hrm...what about this?" experiment it was looking pretty shoddy. And then- voila! A stripe of gold solved everything.


Pretty Pretty Princess nails (aka My Little Pony Overdrive) brought to you by:
Julep "Carrie", with a layer of Sinful Colors "Let Me Go" atop (courtesy of my
Itty Bitty Beauty Swap
with
Bento for Kidlet
), plus sponged-on tips of Zoya "Neeka", and a transition stripe of Stripe Right gold.
Labels: nail files