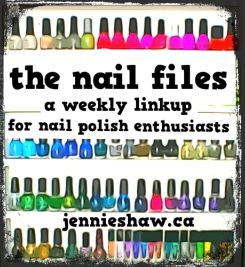 So, first I did a red/purple/pink gradient on every nail.
Then covered each nail with painter's tape in which a heart had been punched out (except pinky).
And I painted white hearts.
Then I tossed gold glitter on those hearts and sealed it.
Then I put Zoya's Fast Dry Drops on my nails because I wanted to get on with my day. And THIS happened.
That's right. It MELTED my nail polish.
As soon as that started happening, I ran to the bathroom and washed, as I was frightened there was acid in those drying drops.
*sigh* So then I started over again. Luckily, my pinky and thumb survived, so I just painted the others a solid color that was used in the gradient.
I used: Orly "Grave Mistake", Julep "Kiera", Julep "Carrie", Zoya "Snow White" and Elegant Touch gold glitter.
Labels: nail files