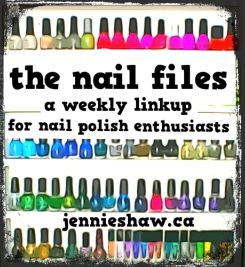 We can now start calling this "The Nail Files, a.k.a. Beth's excuse to be silly with brushes".
I think this is caused by my latent frustration at having wanted to be a painter all of my life, but having pretty terrible fine motor skills.
I digress.
Fedora and I have been playing, since Xmas, LEGO Lord of the Rings
. This game is ridiculously addictive, even for a gal who doesn't prioritize console gaming.
Combine that with a job interview at a local geek-themed tavern, and this is what happens...
(huge thanks to Flight of Whimsy for having the One Ring script written out)
I use Nailtini "Champagne", initially with Julep "Cleopatra" for the text. That gummed the hell out of my brushes as I was trying to use them. So I re-did it with a fine-tipped Sharpie for the text.
Can anyone tell me how they use a nail brush without it gumming up?
Labels: nail files