Synopsis according to GoodReads:
"Deep in the stacks of Oxford's Bodleian Library, young scholar Diana Bishop unwittingly calls up a bewitched alchemical manuscript in the course of her research. Descended from an old and distinguished line of witches, Diana wants nothing to do with sorcery; so after a furtive glance and a few notes, she banishes the book to the stacks. But her discovery sets a fantastical underworld stirring, and a horde of daemons, witches, and vampires soon descends upon the library. Diana has stumbled upon a coveted treasure lost for centuries-and she is the only creature who can break its spell."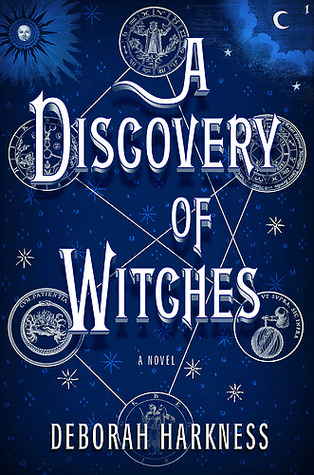 A Discovery of Witches
is a contemporary supernatural fiction with a little bit of everything. The protagonist is no-nonsense and practical, and it's great fun to see her deal with many curveballs in her boldly honest way.
The romance is steamy- and I don't often say that, so here it's a huge compliment- and not explicit at all. The are some lightly gory bits that had me queasy (but then, that doesn't take much these days), but the portrayal of family ties is so brilliantly developed and you get such a sense for each character that I didn't mind a little stomach churning.
There's a great many nods to history (and alchemy) as well as genetics and phlebotomy in a way that tells me Harkness likes her research (she's a professor and wine blogger btw). Gotta love entertainment that educates!
I also might have a wee book crush on Marcus.
Anyway, I greatly enjoyed this one and I'm glad there's a sequel, which I will be reading as soon as I can get my paws on it. I recommend it for fans of fun contemporary supernatural stories, juxtapositions/opposites, character development, sizzling but 'clean' romance, and science and/or history in fiction.
Labels: a discovery of witches, book review, clean romance, contemporary, deborah harkness, female protagonist, fiction, intrigue, supernatural