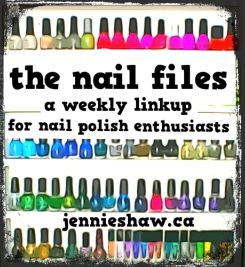 I have a new goal in life: do manis that make your boss and coworkers squeamish.
Mission accomplished!
These were easy to do- that's 2 coats of ALiquidLacquer The Skeleton's Ring (which is a gorgeous buttery cream with gold flakes)
Then I took a nail art brush and sloppily dotted some Orly Grave Mistake (for my money, the best blood red polish out there). I went first across my cuticle and the sides, and then created some dripping tracks down the nail.
This is nail art that works, even when your hands are shaky. Yay!
I also feel like I must be turning into a zombie, when I look at them.
Labels: halloween, nail files